Our Pastor: Reverend Dr. Ronald Benson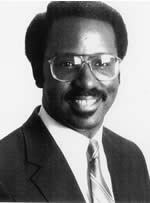 Pastor Ronald Benson is a native of San Antonio and a 1967 graduate of Sam Houston High School. He holds three degrees: a B.A. Degree with Honors from St. Mary's University, 1970 (finishing college in 3 years); a B.Th. from Guadalupe Theological Seminary, 1973; and a Juris Doctorate from St. Mary's University School of Law, 1973.

He has been a practicing attorney for more than 30 years. He began his career with an appointment as a Civilian Attorney with the Office of Judge Advocate General of the United States Air Force assigned to Lackland AFB. He served from 1974 until 1989 as Procurement Attorney and Senior Labor Relations Attorney and performed a wide range of legal duties. He has received numerous awards and recognition for his service to the Department of the Air Force, including the Civilian Commendation Award for Excellence and sustained superior performances from Headquarters Air Training Command, as well as for community service.

He is the founder of the Bethany First Baptist Church and he has served as pastor from 1980 until present. Pastor Benson is a gospel preacher and teacher with over 30 years of service. He has served on numerous boards, social and civic, in the City of San Antonio. Most recently, he served on the Board of Managers for the University Health System for 2 years as secretary and chairman of the personnel committee, and on the Bexar Appraisal District's Appeals and Review Board for 2 1/2 years.

Additionally, Pastor Benson has chaired the political action committee for the Baptist Ministers Union, which successfully lobbied along with other community organizations for a State holiday celebrating Martin Luther Kin, Jr.'s birthday. He also serves as general counsel to the Guadalupe Landmark District Association of Churches regarding church law as well as serving several churches and businesses in his practice. Pastor Benson is married to former Lillian R. Stain of San Antonio who teaches first grade in the the San Antonio School District's Neal Elementary School. He was a foster father to two teenagers until the end of 2003.